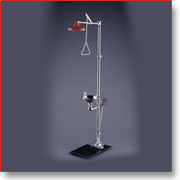 Creative Eye/Face Wash and shower operate simultaneously by walk on plat form.
Technical Specifications:
1 Creative Shower Heads :Injection moulded ABS.
2 Creative Eye Wash Atomiser Unit: Moulded ABS with (brass and rubber) automatic flow Compensators.
3 Pipe & Pipe fittings: Galvanized 'C' class heavy duty ISI marked.
4 Flush Cock: 1 ¼"
5 Body of valve: Gun metal
6 Foot operated Platform : MS
7 Flange: MS.
8 Spring loaded valve design: keeps the users hands free to hold eyes open in case of chemical splash.
9 Recommended Water pressure: 28 LPM for Eye Wash. 110 LPM for Combination and Shower.
10 Recommended water pressure : 2kg/cm2.