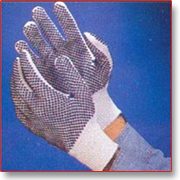 Creative Cotton knitted Seamless Gloves with one side dark green PVC polka Dot.
Technical Specification:
Manufactured using natural and synthetic light or heavy spun or filament yarn as per buyers specification.
The advantages are:
● Provides excellent grip for safer handling with some cut and abrasion resistance and increased Glove life..
● Seamless construction provides higher level of comfort breathability and flexibility.

Usage Area:
Chemicals, Fertilizers, Petrochemicals, Refineries and all other industries.