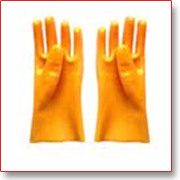 Creative seamless shockproof gloves 14" 5000 to 25000 volts conforms to IS 4770- 1968.
Technical Specification:
Manufactured out of superior quality PVC and cotton hosairy material.
The advantages are:
● It is Chemical resistant.
● comfortable fit affords excellent grip enabling the worker to work safely.

Usage Area:
Chemicals, Fertilizers, Petrochemicals, Refineries and all other industries.