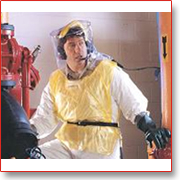 Creative Bubble Hood consisting of imported transparent PVC Hood for 360° peripheral vision with elasticated neck and inlet baffle connection for air dispersion inside the Hood.
Technical Specification:
● Hood manufactured out of imported clear PVC soft.3mm PVC.
● Neck: ¾" elastic embedded in soft cotton hosiery.
● Baffle : ABS Tubing: ½" Rubber Tubing.
● Tubing: ½" Rubber Tubing.

The advantages are:
● Face Shield to combine comfort , protection and low cost.
● Crown protector gives extra protection, conforms to IS-8521.
● Unique and attractive appearance.
● Available with all replaceable part for longer and economical use.
● Bolero : Laminated PVC.
Usage Area:
The Creative Bubble Hood is used with Creative mini Air flow Regulator by workers working in contaminated atmosphere. The air to the Hood is supplied by a compressor which is kept in a clean atmosphere.