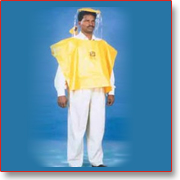 Creative Frog Hood consisting of one piece hood and bolero covering the front and back of the wearer up to the waist with tying arrangement . The hood is equipped with an exhalation valve.


Technical Specification:
● Hood manufactured out of 0.5mm imported clear PVC. Bolero manufactured out of .20mm thickness soft laminated PVC yellow in colour.
● Exhalation Valve - Rubber.
● Exhalation Valve and Seat : ABS.



Usage Area:
Used in Chemical, Fertilizer and Petrochemical Industries where there is possibility of chemical splashes on the body of the workers.