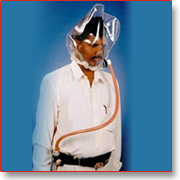 Creative Bubble Hood consisting of imported transparent PVC Hood for 360° peripheral vision with elasticated neck and inlet baffle connection for air dispersion inside the Hood.

Technical Specification:
● Hood manufactured out of imported clear PVC soft.3mm PVC.
● Neck: ¾" elastic embedded in soft cotton hosiery.
● Baffle : ABS.
● Tubing: ½" Rubber Tubing.

Usage Area:
The Creative Bubble Hood is used with Creative mini Air flow Regulator by workers working in contaminated atmosphere. The air to the Hood is supplied by a compressor which is kept in a clean atmosphere.