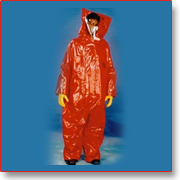 Creative One Piece PVC Gas Tight Suit with gloves, gumboots and provision to accommodate a self contained CABA.

Technical Specification:
The PVC Suit covers the total body with PVC gloves and gumboots attached . The visor part of the Hood is made out of clear imported PVC. The Suit has heavy duty nylon zippers and overlapping flap with ½'' Velcro . The Suit consists of Air Distribution Manifold System manufactured out of Brass. The internal air distribution tubing is PVC nylon re-enforced. The PVC Gloves are attached to the Suit with the help of specially designed Glove holders with special quality rubber 'O' Rings.
The advantages are:
● Multipurpose Suit.
● Ergonomically designed for comfort to the wearer.


Usage Area:
In areas where hazards like gases and heavy chemicals exist.