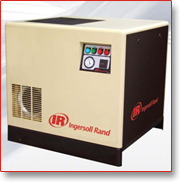 We no longer consider ourselves an "air compressor company." We are moving far from the typical point- solution for your business to become a provider of complete air solutions that saves money from the compressor room all the way to the point-of-use. Ingersoll Rand is totally focused and dedicated to reducing your operational costs through efficient, reliable and energy-saving products, innovative maintenance services, controls and financing to maximize performance across your entire air system.
No matter the size of your operation, Ingersoll Rand is the source for complete and cost- effective air solutions for your business.
Compressed air is used widely throughout industry and is often considered the "fourth utility" at many facilities. Almost every industrial plant, from a small machine shop to an immense pulp and paper mill, has some type of compressed air system. In many cases, the compressed air system is so vital that the facility cannot operate without it. Plant air compressor systems can vary in size from a small unit of 5 horsepower (hp) to huge systems with over 6,000 hp.
In many industrial facilities, air compressors use more electricity than any other type of equipment. Inefficiencies in compressed air systems can therefore be significant. Energy savings from systems improvements can range from 20-50% or more of electricity consumption. For many facilities this is equivalent to thousands, or even Lakhs of Rupees of potential annual savings, depending on use. A properly managed compressed air system can save energy, reduce maintenance, decrease downtime, increase production throughput, and improve product quality.
Compressed air systems consist of a supply side, which includes compressors and air treatment, and a demand side, which includes distribution and storage systems and end-use equipment. A properly managed supply side will result in clean, dry, stable air being delivered at the appropriate pressure in a dependable, cost- effective manner. A properly managed demand side minimizes wasted air and uses compressed air for appropriate applications. Improving and maintaining peak compressed air system performance requires addressing both the supply and demand sides of the system and how the two interact.