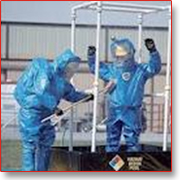 Creative multi spray emergency shower / Decontamination unit designed to be located in areas of high hazard consisting of fourteen self cleaning spray nozzles plus two weep spray nozzles that provide overall body saturation within a matter of seconds. The unit is operated by Push lever operated Stainless Steel 304 full port stay open ball valve. The Unit is manufactured out of heavy duty 'c' class ISI mark pipe and pipe fittings .Flanges are manufactured out of MS.
Technical Specifications:
1 Material of construction :
2. Pipe and pipe Fittings : GI pipe and fittings 'C' class Heavy duty with ISI Mark
3. Multi spray Nozzles and weep spray Nozzles : SS 304 / ABS full cone direction preset non adjustable.
4. self cleaning Nozzles.
5. Valve : Stainless Steel 304 instant action full port stay open ball Valve 1".
6. Flange : Standard 8" dia. MS Floor Flange.
7. Supply : 1 ¼".
8. Recommended water pressure : 2kg/cm2.


The Advantages are:
● Large Push Plate is easy to locate and activates the SS Ball Valve within seconds in times of emergency.
● Specially designed self cleaning spray nozzle and weep spray provide overall body saturation within matter of seconds.
● Decontamination units can be mounted against a wall and still leave an open space.
Approvals:
● This Unit has been accorded BIS Certification Mark vide License No. 3457383 followed by.
● Special BIS approval for multi spray emergency Shower/ Decontamination Units dated 25th November 2004.