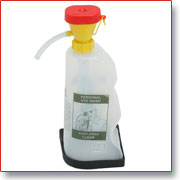 Creative Emergency Eye-Wash Bottle manufactured out of soft food grade plastic ensures steady soft flow of potable water to the injured ocular area helping to flush away the acid/alkali contaminant preventing any further injury to the eye.
Creative Emergency eye wash bottle has an eye cup with a snap fit cap. The air vent valve provided prevents the contaminated fluid from entering the bottle again.
Advantages :
1 Easily Accessible, Light to hold, Easy to operate.
2 Also attaching are pics for filters.