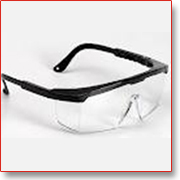 Creative polycarbonate spectacles with adjustable side arms to fit any face, made of polycarbonate lens with Ergo design nose pad one piece and designed with side shield, frame made of strong polymer with adjustable side arms.
The advantages are:
● Fully covers eyes in front and side.
● Light weight.
● Optically correct lens.
● Adjustable side arms.

Usage Area: In general grinding splashes and chipping operations.