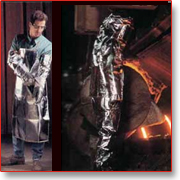 Creative Aluminised Glass Fibre Proximity Suit.
Technical Specification:
Creative Fire Proximity Suit made out of 16 oz imported aluminized glass fiber fabric with dual mirror having 90% reflection of heat as a outer layer and with woolen fabric lining. Additional layer (vapor barrier) is also used for higher temperature. Range of temperature is from 700 degrees C to 900 degrees C for the protection against heat/fire.
An overall is One Piece Suit or Two Piece Jacket and Trouser having zipper and stud fastener with or without pouch on back to accommodate breathing apparatus. Stitching is done by 'KEVLAR' Threads.
Hood: Made out of aluminized glass fiber fabric with lining of woolen fabric. It has a built-in fiber glass helmet and visor with a plain and a tinted polycarbonate and an outer layer of mica. It covers the chest also.
Gloves: Five fainter gloves made of aluminized glass fiber fabric with woolen lining.
Size: 14" to 18".
Boots: Made of upper layer of aluminized glass fiber fabric and inner lining of good quality leather with heavy duty zipper covered with aluminized fabric flap with extra stud for double protection. Special neoprene rubber sole in non-skid pattern for use in oil/chemical/grease area. Metal toe for extra air-room and protection.
This is a Totally Tailor-Made Suit, which can be designed as per customer's requirements with or without breathing apparatus attachment to it.
The advantages are:
● Free fitting design enables the worker to work comfortably.

Usage Area:
In areas where temperature exceeds 1500 C.