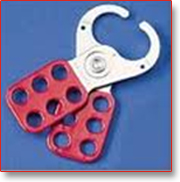 RED LOCKOUT HASPS

Up to six Workers can Lockout the Same Equipment.
It is a must for maintenance and repair work.
Equipment cannot be re-energized until the last lock is removed.
Specifications :
● Mfg from 12 gauge steel that is epoxy coated to give superior resistance to rust and added dielectric strength.