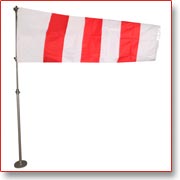 Creative Wind Sock complete with heavy duty telescopic stand for adjusting height with 2 nos sealed bearings housed in a dustproof casing.

Technical Specification:
1 Frame manufactured out of MS.
2 Bearings:- Double Z encased in dust proof casing.
1 Height can be increased or decreased by telescopic mechanism.
2 Sock fabricated out of red and white polyester cloth.
Usage Area:
Chemical and Fertilizer Industries, Airport Zones and all other industries.