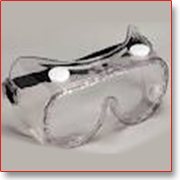 Creative Chemical Splash Proof Eye care Goggles moulded out of soft clear PVC with polycarbonate lens can be worn over numbered spectacles. CLI tested.
The advantages are:
● Pressure free fitting and newly designed nose bridge gives wearer comfort.
● Indirect cross ventilation gives fog free vision.

Usage Area:In Chemicals ,Fertilizers , Petrochemicals, Refineries and Bulk Drug Industries where hazards of chemical splashes exist.