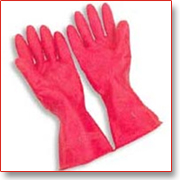 Creative orange / black rubber gloves orange / red lined quality Acid and alkali proof made out of superior quality rubber.
The advantages are:
● Curved finger gives flexibility.
● Provides ample flexibility and durability in temperatures.

Usage Area:
Used for handling of Acid /Alkali and concentrated chemicals perforation on palm gives better grip. Also used for jobs which involve rough handling parts, and petrochemicals.