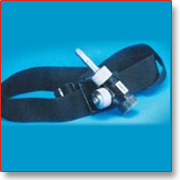 Creative Air Flow Mini Regulator.
Technical Specification:
● Manufactured out of aluminum and brass.
● Working pressure:- 4 to 8 KG cm2.
● Airflow adjustable upto 150 LPM/minute.
● Minimum air supply at 4 KG/cm2- 60 L/minute.

Usage Area:
Used along with Glass Fibre Hood Respirator , Model no. CE 1053, Randle Hood model No. CE 1054 and Supplied Air Hose Apparatus Model No. CE 1055.