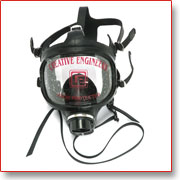 Creative supplied Air Hose Apparatus designed for prolonged work in highly dangerous and oxygen deficient atmosphere.
Technical Specification:
● Consists of a full vision face mask with corrugated tube moulded out of neoprene rubber.
● Visor:- cut out of imported 3 mm acrylic.
● Connected to an air regulator.


The advantages are:
● Economically priced.
● Visor : 3 mm imported acrylic.
● Negligible operating and maintenance costs.
● Excellent worker mobility.
● Low breathing resistance.
Usage Area:
Sewers , tanks, boilers, grinding shops, spray painting.