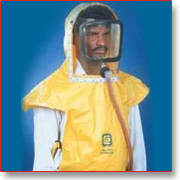 Creative Randle Hood Respirator with PVC Bolero and air inlet connection and air filter mounted in a waist belt.
Technical Specification:
● Hood manufactured out of imported clear PVC soft.3mm PVC.
● Neck: ¾" elastic embedded in soft cotton hosiery.
● Baffle : ABS Tubing: ½" Rubber Tubing.
● Tubing: ½" Rubber Tubing.

The advantages are:
● Shell moulded out of glass fibre.
● Visor : 2mm imported acrylic.
● Grommet: Moulded superior quality rubber.
● Headband: floating suspension and adjustable pinhole headgear moulded out of HDP.
● Bolero : Laminated PVC.
Usage Area:
Used in Pharmaceutical Heavy Chemicals, Chemicals, Petrochemicals and Refineries.