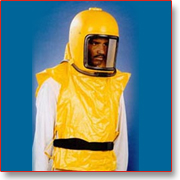 Creative Glass Fibre Hood Respirator designed for prolonged work in dangerous atmosphere containing toxic chemicals , heavy dust concentrations , smoke, poisonous gases and flying particles. A compressed air line fine filter is also available.
Technical Specification:
● Shell moulded out of glass fibre.
● Visor :- 2mm imported acrylic.
● Grommet :- Moulded superior quality rubber.
● Headband :- floating suspension and adjustable pinhole headgear moulded out of HDP.
● Meets International Standards.

The advantages are:
● Face Shield to combine comfort , protection and low cost.
● Crown protector gives extra protection, conforms to IS-8521.
● Unique and attractive appearance.
● Available with all replaceable part for longer and economical use.
● Bolero : Laminated PVC.
Usage Area:
Used in Pharmaceutical and Refineries, Heavy Chemicals, Chemicals, Petrochemicals.