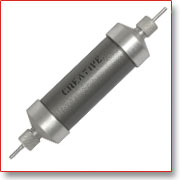 CREATIVE OIL, MOISTURE AND DUST FILTER WITH ¼" CONNECTION
It consists of a GI pipe 3" dia x 8" long capped on both sides with Aluminum caps with connection for ¼" PVC hose nylon reinforced. It is filled with specially treated Activated Charcoal with both ends having a felt padding. The felt filters the dust and the Activated Charcoal helps neutralize the oil and moisture emitted by the Compressor and allows clean air to the weaver of the Breathing Apparatus.
As soon as the weaver of the Breathing Apparatus starts to receive moisture and oil, the oil filter should be replaced.
Application:
Chemical Industry, Petro-Chemical Industry, Oil Refinery.