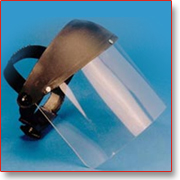 Creative Plastic Face Shield with acrylic visor, brow guard and Ratchet type Headband for protection against flying objects and chemical splash.
Size :
Available in all sizes.
Technical Specification:
Creative Face Shield made from acrylic visor with floating suspension and adjustable pinhole headgear moulded out of HDP , 14" x 6" & 14" x 8" acrylic visor.
The advantages are:
● Face Shield to combine comfort , protection and low cost.
● Crown protector gives extra protection, conforms to IS-8521.
● Unique and attractive appearance.
● Available with all replaceable part for longer and economical use.
● Meets International Standards.
Usage Area:Creative Face Shield is ideal for use in chemical plants and other industrial applications that demand face protection against flying objects, abrasive particles and chemical splashes. CLI tested.