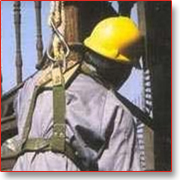 Creative Nylon Safety Belt of 1 ¾" nylon webbing with special electroplated buckles, 'D' ring and 16 mm polypropylene rope,10 ft. long and special electroplated screw hook.
Technical Specification:
Creative all purpose safety harness belt made of 1 ¾" wide nylon webbing tested for 2000 kg BS with 6mm thick coated friction buckle and D-ring joint less, and tested for 2000kg BS, nylon stitched along with copper rivets for additional safety ,"Quick Fix" spring loaded hook.
The advantages are:
●Waist belt with shoulder strap for perfect fit.
●Crown protector gives extra protection, conforms to IS-8521.
● Padded back for comfort.
● Rope length to suit your requirement.

Usage Area:Used in all construction activities and in mines.