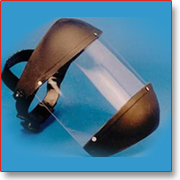 Creative Plastic Face shield made of acrylic visor with rugged brow and chin guard for protection against flying objects and chemical splash. The sides are extended with floating suspension and adjustable pinhole headgear moulded out of HDP.
Size :
Available in all sizes.

The advantages are:

● Dual guard for dual protection.
● Clear side extended to give extra vision and protection.
● Light weight for less head and neck fatigue.

Usage Area:Creative full view Face Shield is ideal for use in chemical plants and other industrial applications that demand face protection against flying objects , abrasive particles and chemical splashes, CLI tested.